Maca – AKA Lepiduim Meyenii or Peruvian Ginseng.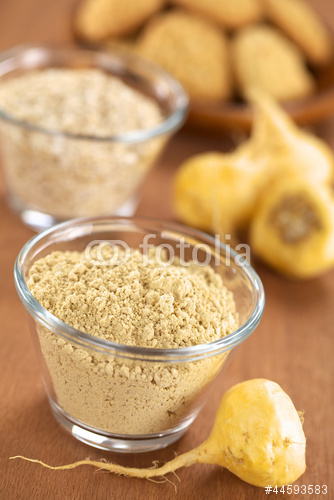 This beautiful ancient food has been used for centuries. It is a native root vegetable of the cruciferous family from Peru.
The size of Maca root is similar to that of a turnip or large radish, and reproduces using its own seeds, via self-pollination. One plant can take up to 200 days to mature bearing over 1,000 seeds (equating to approximately 1 gram).
The color of Maca varies from a cream-color to black. The cream-colored one is the most prominently grown. Other colors include red, purple, and, as mentioned, black.
Maca is a rich source of beautiful nutrients including zinc, magnesium, copper, iron, manganese, selenium, fatty acids, and amino acids. The darker colors tend to have greater amounts of iodine.
As a dried food, Maca can last for many years.
Today, Maca is a popular 'superfood', and used in the dried and raw form in smoothies, juices, and as a topping for cereal-based breakfasts.
TRADITIONAL USES OF MACA
Maca, as we see it today in Western cultures (dried and raw) is not the only way this food is consumed by the natives of Peru. It is traditionally a cooked food, which is roasted and mashed. The roasting and mashing of Maca provides a thick liquid, which is then dried and used like a porridge. It is traditionally added to soups and stews, jams and all manner of native Peruvian dishes. It is often ground up and used as a flour. The leaves are also edible and used in salads.
In ancient times, Maca was given to the Incan people for strength. It is believed to be a potent aphrodisiac (which one can assume due to its amazing nutritional profile), particularly for men, where it increases the libido. Maca has also been used to increase energy. The adaptogenic properties of Maca make it an excellent food source for calming the nervous system.
While many people across the globe now use Maca for various reasons, it is important to note a few points.
Maca has an estrogenic effect, especially in women who already display signs and symptoms of estrogen dominance, like breast cancer, endometriosis, fibroids and uterine/ovarian cancers.
High consumption can be goitrogenic. This is especially true with the use of the cream-colored one that is most popular and so widely available today. This may be due, in part, to modern diets being low in iodine.
Maca (gelatinized) has been shown to be effective for women in peri-menopausal phase of life, where estrogen levels decline.
It stimulates the endocrine system, which may lead to balance of hormones
Plant sterols may assist in pituitary and adrenal gland function and reduce anxiety, stress and depression symptoms
Non-steroidal compounds may be used as a natural hormone-replacement therapy (HRT) and be better tolerated than traditional/medical HRT therapies
Maca helps improve vitality, energy, metabolism and libido throughout the various stages of menopause
It is important to remember the traditional use and consumption of certain foods that are not part of our heritage and natural environment in order to achieve the greatest benefit. Many traditional foods have unexpected results on the body, and can cause issues for some people. This is also why it's important to discuss these things with your health care provider before adding new things to your daily diet.
---
For appointments contact: